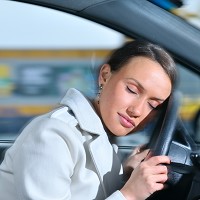 Technology in the near future may be able to detect if a driver is in danger of falling asleep at the wheel.
Using technology which captures brain activity and eye movement, the system would monitor the driver and automatically alert when they are showing signs of drowsiness.
The research is the result of work by the University of Leicester in collaboration with the University of Buenos Aires in Argentina.
It combines two recent technological breakthroughs; high-speed eye tracking that records pupil movements in great detail using infra-red cameras, and high-density electroencephalograph (EEG) technology that measures electrical brain activity precisely.
Future cars would have the system built in to the vehicle. It would monitor brain signals that only occur in the early stages of sleepiness while also looking out for erratic gaze patterns which are common in people who are starting to feel drowsy.
It is hoped the new technology would cut the amount of accidents on the roads, with 20% of collisions thought to occur because of tiredness. It would also have a knock-on effect on the price of car insurance .
Dr Matias Ison, who led the research, says: "Monitoring the alertness of drivers is just one of many potential applications for this work.
"Building on the foundation provided by our EPSRC-funded project, we hope to see the first of these starting to become feasible within the next three to five years."
Copyright Press Association 2013