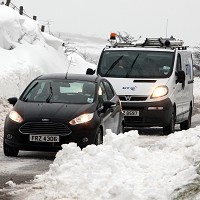 Motorists must check their cars now to simplify the problems of driving in wintry weather as many are poorly prepared, according to the Highways Agency.
The agency believes up to 45% of drivers do not check their vehicles before the seasonal bad weather comes along, and around 28% do not pack emergency kits.
HA research also suggests that just over half of drivers do not even carry de-icer. Drivers are reminded to cover all the bases, especially in bad weather, including checking they are covered with up-to-date car insurance and breakdown cover policies.
RAC spokesman Simon Williams said: "Top of the list of the most avoidable winter breakdowns is a frozen engine. During freezing weather we regularly see over 1,650 breakdowns a month caused by a lack of anti-freeze. These could easily be avoided by topping up the cooling system with correct anti-freeze mix, while a further 530 breakdowns a month could be prevented if drivers took the necessary steps to check, tighten and apply anti-corrosion jelly to their battery connections.
"Everything motorists can do to save themselves mechanical problems in the cold is good news and may help to avoid a repeat of January this year when RAC patrols dealt with more than 100,000 breakdowns in just 11 days."
The Highways Agency itself is "well prepared" for the ice and snow, with more than 500 salt-spreading vehicles, ploughs and snow blowers, and 270,000 tonnes of salt in stock, said traffic management director Simon Sheldon-Wilson.
Mr Sheldon-Wilson warned that even though the agency treats the roads before temperatures fell below freezing, motorists should still take care and plan ahead.
His warning was backed by roads minister Robert Goodwill who also urged drivers to carry important items, plan journeys and think about whether their trip is vital in severe weather.
Copyright Press Association 2013