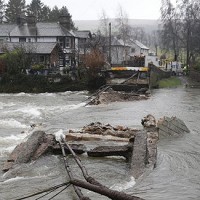 Tens of millions of pounds are being invested to help restore transport links hit by the recent floods.
The £40 million emergency fund will allow Highways England to focus on three main projects across Lancashire and Cumbria, where storms Eva and Desmond have recently brought chaos.
Patrick McLoughlin the Transport Secretary announced the allocation on Sunday.
The plan includes looking at ways of replacing Pooley Bridge at the top of Ullswater. Flood water totally swept this away during the storm.
Highways England will also explore how the Cumbrian village of Eamont Bridge, to the south of Penrith, can be better fortified against further flooding as well as rebuilding it.
Thirdly, it aims to swiftly rebuild and re-open the key arterial road, the A591 which links the north (Keswick) and south (Kendal) of the picturesque Lake District. Ironically, only in April the A591 was voted Britain's best driving road .
All three projects will start early in 2016 with evaluations already having taken place between Highways England and the local councils across the two counties involved.
Mr McLoughlin says ministers want Lancastrian and Cumbrian households to get back up and running as quickly as they can. He called the flood damage "very difficult" for local families.
Mr McLoughlin says he has "enormous sympathy" towards the flood-damaged residents who have had to move from their properties over Christmas.
He describes good regional transport links as the area's "lifeblood" and adds that repairs of storm-hit local bridges and roads will go towards restoring these.
The new £40 million funding is in addition to the initial £2 million maximum pledged following the first burst of bad weather there. The original fund was set up to undertake a preliminary investigation into what were the greatest transport link restoration priorities in the area.
Ministers have already promised £6.1 billion to English local councils over the next five years to help with the maintenance of local highways.
Copyright Press Association 2015. Motoring News articles do not reflect the RAC's views unless clearly stated.
%20http:/www.rac.co.uk/advice/motoring-news/a591-named-best-driving-road-in-uk (the A591 was voted Britain's best driving road)