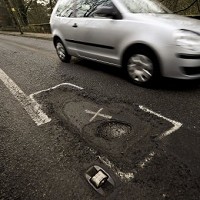 East Riding drivers can look forward to £16.7 million being poured into improving their roads and helping in the war against potholes.
Andrew Jones, the Transport Minister, has unveiled a new package of measures to maintain Yorkshire's 233-mile network of A-roads over the next five years.
The A161, A1079 and A63 will be the first roads to benefit in the year ahead.
Last month the RAC announced that they had dealt with 24% more pothole-related breakdowns over 2015 than in 2014.
In addition, the new kitty will go towards upgrading the A-roads to help local companies and residents moving to new homes being constructed in Driffiled, Bridlington, Beverley and Goole plus the Haltemprice area.
Drivers use East Riding's A-road network to move between the region's key villages and towns and to get quick access to motorways.
The Government says that additional targeted road maintenance cash to improve car journeys and help local companies is key to their long-term economic strategy.
Mr Jones says that the road improvements, part of the so-called Northern Powerhouse initiative, will make drivers' trips more reliable.
He says that local people and companies will benefit from the subsequent economic development and new job opportunities.
East Riding's new Local Growth Fund (LGF) £16.7 million award is on top of the £58 million from the Department for Transport (DfT).
This is being used to enhance street lights, mend potholes and repair roads during the five years ahead.
Copyright Press Association 2016. Motoring News articles do not reflect the RAC's views unless clearly stated.