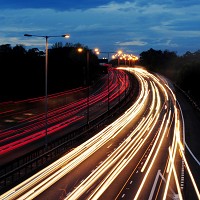 Councils are writing off unpaid parking fines worth millions of pounds every year because they cannot trace drivers of foreign vehicles.
The Local Government Association (LGA) says thousands of parking tickets have ended up in the shredder, with £750,000 alone being owed to Brighton and Hove Council.
European vehicles are allowed to drive on British roads for six months before they have to be registered with the DVLA, according to EU rules, but no record is kept of around three million vehicles which enter the UK each year.
Records are only kept when the DVLA receives notification of foreign vehicles if an offence has been committed, with reports generated either by the police or through information received from the public.
This means that many vehicles pass through the system completely unregistered.
As a result, council chiefs are left to pick up the pieces to chase up drivers for payments - while laws in other countries mean that British drivers committing offences such as parking illegally can be tracked.
RAC spokesman Simon Williams said: "This is the latest blow for motorists in the saga of the unknown number of foreign vehicles which enter the country and are then unaccounted for whether or not they leave or remain in the UK.
"The millions of pounds being lost through unpaid parking fines is unfortunately just the tip of the iceberg when compared to the car tax that should be paid once a vehicle has been in the UK for more than six months. If there were just 15,000 unregistered foreign cars the Treasury is missing out on some £3m. This could, of course, be far higher but no one knows what the true number is.
"While we understand the DVLA and the UK Border Force are working on a solution to close this gaping hole and share data, we are still waiting to know exactly when this will happen. In the meantime it is the law-abiding British motorist that's losing out on millions of pounds which could be used to fix our pothole-ridden roads."
Peter Box, of the LGA's economy and transport board, said that foreign drivers "need to realise they are not above the law" when they arrive in the UK.
He added that "reckless" parking by drivers not registered in the UK risks other people's safety, while the millions of pounds written off by councils could help repair road surfaces, bolster bus services or shore up a £12 billion repairs backlog.
Mr Box proposed a central database that would let the Government crack down on those failing to register their vehicles.
Copyright Press Association 2014