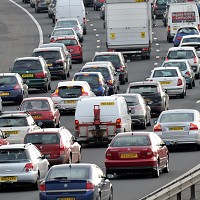 Around 1.8 million Britons will head abroad this bank holiday weekend, with those staying at home set to endure cool and wet conditions.
While those jetting off will seek to soak up the sun in places such as Spain, Turkey and Greece, it is likely to be umbrella time for those attending festivals and sporting events in the UK.
The Highways Agency said about 194 miles of roadworks will be completed before the weekend and 59 miles of further works will be suspended over the holiday period.
But a number of key routes will still have roadworks, including a section of the M1 near Luton in Bedfordshire.
On the railways there will be some engineering work but 94% of services will run as normal, with replacement bus services reduced by 58.5% compared with last August bank holiday.
Forecasters are predicting possibly heavy and thundery rain across Wales, south west England and Northern Ireland on Friday, followed by a very unsettled day across the UK on Saturday with plenty of cloud and heavy, sometimes thundery, downpours.
It could be quite windy on Saturday, with temperatures not much higher over the weekend than 20C (68F) - a stark contrast with last weekend when the thermometer touched 32C (90F).
Copyright Press Association 2012