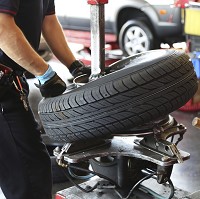 Millions of motorists could be driving cars with illegal tyres, Micheldever has warned.
More than half of tyres the firm replaces are found to be at or below the 1.6mm legal limit for tread depth.
It says the number of tyres being left until they reach an unfit state has soared by more than 250% in seven years.
Analysis of data from 100,000 tyres removed each year shows that the tread on 15.3% of tyres replaced in 2008 was at or below the legal limit, compared with a whopping 56.4% today.
The study also reveals that 40% of drivers don't know what the legal tread depth limit for car tyres even is, while 13% mistakenly believe the garage that sold or serviced the car most recently is legally responsible for checking the condition of tyres.
The lack of awareness is despite motorists becoming increasingly safety conscious over the years.
Duncan Wilkes, Micheldever's chief executive, says it is commendable that motorists put an emphasis on safety when buying a car, but the research exposes a "serious contradiction" with how they go on to maintain their vehicles in the long term.
He points out that airbags are an essential safety feature in the event of an accident, but roadworthy tyres are the key contributor to preventing that accident from happening in the first place.
Neglect of tyres is fast becoming a serious road safety issue in the UK, and if they are not regularly checked they may not be equipped to deal with an emergency situation, Micheldever warns.
If the experience of the retailer is an accurate reflection of the state of tyres on the nation's roads, it suggests there could be more 18 million cars with a tyre at or below the legal limit.
Copyright Press Association 2015