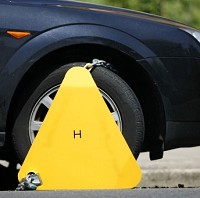 Millions of motorists may be entitled to refunds after being "short-changed" over private land parking stays, according to the RAC Foundation.
Experts believe motorists could have been overcharged around £100 million in 2013 alone.
It said motorists parking on private land may have been illegally charged as much as £100 for exceeding time limits. The Foundation wants to see these cases tested through the courts, which it said might view the charges as unenforceable because payments were in fact penalties.
John de Waal's study for the RAC argues the sums drivers hand often greatly exceed any recompense for any genuine loss.
The barrister said it could also be unlawful in cases where motorists are pressurised into settling up quickly with parking firms or risk higher fees, especially under Europe's consumer laws.
Mr de Waal QC added that motorists could also challenge such payments on unfairness grounds if signs are vague or not prominently displayed.
The RAC Foundation highlighted two examples of the practice's unfairness.
A £100 demand was left on the windscreen of a Buckinghamshire driver who parked by her partner's property, despite having placed it there problem-free for two years.
A High Wycombe mother, also from Buckinghamshire, handed over £100, despite only exceeding the time limit because she was tending to her upset toddler.
Such "unreasonable" payments shatter the Government's hope that private land parking problems would end with a clamping ban, said the Foundation.
Stephen Glaister, RAC Foundation director, said: "Millions of drivers could be in line for a refund. We estimate that in 2013 alone drivers might have been overcharged by some £100 million."
Professor Glaister said: "We would like to see this legal argument tested in a higher court so that a binding precedent is set.
"At the same time we would like the Government to do what it should have done at the outset and set out what are reasonable charges."
He continued: "Ministers thought that the ban on clamping would end parking problems on private land. As we warned at the time, they were wrong.
"They allowed a system of ticketing to emerge which is barely regulated. In effect drivers have been short-changed."
Copyright Press Association 2015