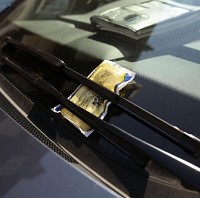 Refunds for drivers totalling millions of pounds could depend on a chip shop proprietor winning a landmark court case.
Barry Beavis has taken ParkingEye, an operator of private car parks, to an appeal court claiming it unfairly charged him for overstaying.
RAC Foundation director Stephen Glaister said: "Tens of millions of pounds hang on this case."
"If it goes in favour of drivers then there are potentially huge sums to be repaid to those who have been unfairly ticketed."
Mr Beavis, of Chelmsford in Essex, said outside the court that success would spell a triumph for drivers everywhere. He claims the £85 fine he incurred in April 2013 was not just punishment for overstaying in a retail park by just 56 minutes.
Mr Beavis, 48, argues such a charge is "disproportionate", "unlawful", "unfair" and therefore "unenforceable".
ParkingEye claims these charges are needed to deter motorists who overstay in such busy areas. Its legal team said that the charges were neither unreasonable nor extortionate.
The court has reserved its judgement until a later date.
Copyright Press Association 2015