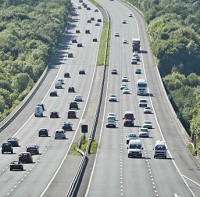 Motorways are virtual no-go areas for millions of UK drivers, the results of a new RAC survey suggest.
And the motoring organisation's poll suggests that less than one in three of those who do not like using them would be willing to have motorway driving lessons.
Of the motorists surveyed a fifth (22%) - equivalent to more than eight million drivers - say they rarely use the motorway.
Most say it is because they do not need to but nearly a third say they either dislike doing so or get someone else to drive when motorway travel cannot be avoided.
One in 100 motorists - equivalent to around 380,000 drivers - though, says they never use the motorway network. Among them, over one in three (35%) admit it is because they do not like the idea of motorway driving.
Large proportions say their reluctance is down to the speed of motorway traffic and/or the fear of being involved in an accident, despite them statistically being the UK's safest roads. Others say they find motorway driving boring or lack the confidence to venture on to them.
Just over a quarter (29%) of those who avoid the roads, meanwhile, say they would be willing to take motorway lessons.
The RAC's Simon Williams says: "While there are many parts of the country where our 2,300 miles of motorway don't stretch to, it is surprising to find out that so many motorists don't, or won't, drive on a motorway.
"Despite motorways statistically being some of our safest roads, many people still seem to rely on partners, friends and family when they need to use one. And with only 29% of reluctant motorway drivers saying they are open to taking motorway lessons, it seems that for the remainder (71%) a three or four-lane road with speeds of up to 70mph is sadly just a step too far.
"The message to them has to be: with the right instruction and advice, plenty of care and practice, confidence in motorway driving can easily grow; at the same time, it is also important from a road safety perspective that people drive within their comfort zones so for some it may be best to stick to local roads where they are most confident."
Copyright Press Association 2016. Motoring News articles do not reflect the RAC's views unless clearly stated.