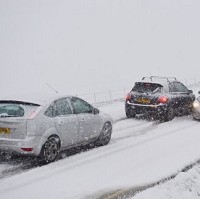 Motorists are being lulled into a false sense of security by the recent mild weather, at the expense of fitting safer tyres, a new survey suggests.
Falken's poll shows that fewer drivers are converting to winter-friendly tyres this year because of the as-yet fair temperatures.
But the report suggests that converting to seasonal tyres should be come as naturally to motorists as checking their anti-freeze or breakdown cover policy.
These tyres give vehicles extra grip, as well as safer braking in temperatures under 7C. They also remain effective until temperatures reach 20C.
One in five motorists claim they are not making the change due to the British weather not being sufficiently cold to warrant the price of a spare tyre set. An additional 19% said switching would be too much inconvenience, the report found.
RAC spokesman Simon Williams added: "Getting set up with winter tyres does come at a price as they must be fitted to all four wheels, but the benefits on the road in temperatures under 7 degrees Celsius are marked with shorter stopping distances than normal tyres making for better all-round safety.
"There is a huge lack of awareness about winter tyres, but we hope this will change in the next few years as more people try them and spread the word on the difference they make to their driving. With temperatures in Scotland for example regularly going below 7 degrees Celsius, motorists who make the switch should quickly notice improved handling and safety. In terms of cost it is important to remember that your summer tyres will last longer because they will only be used for half the year."
Matt Smith, director of Falken UK, said that motorists are quick to forget the travel chaos caused by bad winter weather in recent years.
Some motorists might compromise by converting to all-season tyres, he added.
Copyright Press Association 2014