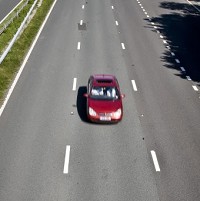 Middle-lane hogging drivers are being warned about the dangers of the anti-social habit in a blunt, new awareness campaign.
Cheshire Police and Highways England are telling them that they stand more chance of dying if they keep in the central lane.
In addition, they are at risk of getting three points on their licences and a £100 spot fine.
On Monday (July 27), the message started being conveyed through motorway services adverts, urging them to keep left.
The two bodies warn drivers that a failure to do so will increase their chances of encountering an undertaker.
The campaign comes almost two years after middle-lane hogging, tailgating and careless driving became offences.
The new campaign coincides with Highways England's poll of almost 300 Cheshire motorists, which shows that 15% confess to middle-lane hogging-induced road rage.
They demonstrate this anger by cutting middle-lane drivers up, or flashing their headlights at them.
Middle-lane hoggers are also named as the motorway's most dangerous motorists in the same poll by 45% of drivers.
Andrew Jones, the Roads Minister, called central-lane motorists irritating and concerning to law-abiding drivers, saying they put other road users' lives in danger.
The campaign may be introduced across the whole of the country if it proves a success in Cheshire.
Copyright Press Association 2015