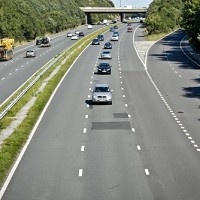 For many motorists, coming across other drivers who 'hog' the middle lane on a motorway is one of the most irritating habits they encounter.
But many will be hoping that the practice will now become a thing of the past, after a van driver became the UK's first person to be convicted in court of hogging the middle lane.
The driver failed to attend Leeds Magistrates' Court but was convicted in his absence.
He was fined £500, ordered to pay costs of £400 and a £40 victim surcharge, and given five penalty points.
Magistrates heard his Citroen Berlingo was stopped on the M62 near Huddersfield in West Yorkshire last August after he persistently refused to move into the inside lane despite having numerous opportunities to do so.
The court was told he had driven for several miles in the middle lane, inconveniencing other motorists and forcing six motorists to brake and swerve to overtake his van.
On the spot fines were introduced two years ago, in a bid to stop drivers hogging the middle lane instead of pulling over into the inside lane when there is a chance to do so.
Copyright Press Association 2015