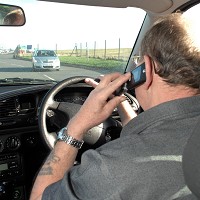 Metropolitan Police Commissioner Sir Bernard Hogan-Howe has called for tougher sanctions to be introduced for drivers who use their mobile phone at the wheel.
He said penalty points on a motorists' licence should be doubled from three points to six - something that would have an impact on the cost of their car insurance - while those caught committing the same offence for the second time should be banned from the roads altogether.
In addition, Sir Bernard called for young drivers caught using a mobile phone behind the wheel within the first year of passing their test to be forced to take it again.
The Government is already considering a number of options to increase the punishment for those caught driving while using their mobile, including raising the fine from £60 to £90.
Figures from one study suggest 200,000 people a year are fined for using a mobile phone while driving, putting other road users as well as themselves at risk.
Sir Bernand said he believed the use of mobile phones while driving was very high and more had to be done to tackle the problem.
He told the Daily Mail: "The problem at the moment is we are dishing out lots of tickets, somebody gets three points and they have got another three chances. I would say you have got two chances.
"You have had a mobile phone infraction and if you do it again you lose your licence.''
A spokesman for the Department for Transport stated: "Using a mobile phone whilst driving is incredibly dangerous and the vast majority of drivers know that if caught they could face a fine, penalty points and even prison in serious cases."
Copyright Press Association 2013