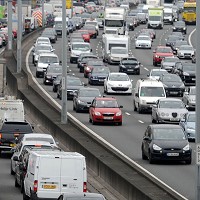 The late spring bank holiday weekend is expected to be a busy one on Merseyside, so drivers thinking of using motorways around the region are being urged to plan their journeys with this in mind.
Cunard's 175th anniversary celebrations are among the various events happening locally over the extended weekend, when thousands of people will be jumping in their cars and embarking on mini breaks.
Highways England will complete or lift dozens of road works nationwide in a bid to give travellers smoother journeys, yet high volumes of traffic are once again forecast across most parts of the country.
It has been working with Merseytravel to gear up for the Three Queens event, which will see all three Cunard flagship cruise liners - the Queen Mary 2, Queen Elizabeth and Queen Victoria - appear together on the River Mersey off Liverpool on May 25.
More signing has been deployed to warn motorists, while extra resources, including recovery vehicles and traffic officers, will be deployed to keep traffic moving on the M53, M56 and other routes.
Further traffic is expected when Everton host Tottenham Hotspur on May 24 - kick-off at 3pm - meaning routes around Merseyside and west Cheshire, such as the M56 and A55, will be even busier than usual on a bank holiday weekend.
Liverpool will be particularly busy over the weekend, as will parts of Wirral and Sefton.
Copyright Press Association 2015
%20http:/www.rac.co.uk/route-planner/ (plan their journeys)
https://www.gov.uk/government/organisations/highways-england (Highways England)