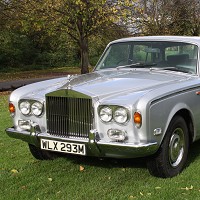 A Roll-Royce owned by Freddie Mercury until his death in 1991 is set to be sold at an auction in Birmingham.
The 1974 Silver Shadow, which has 62,000 miles on the clock, is expected to sell for a figure between £9,000 and £11,000.
The vehicle was bought by Goose Productions Ltd, the management company for the lead singer of Queen, in 1979.
Whoever ends up buying the car will also receive a thick history file containing bills and receipts, including the current MoT certificate.
But the prestigious nature of the car, which was last used at the 2002 premiere of the Queen musical We Will Rock You, will mean its future owner will want to consider some comprehensivecar insurance cover before attempting to take the vehicle back on the road.
Another item on the list of vehicles to be sold at the Coys auction at the Birmingham NEC is a green Ford Capri S used in the BBC sitcom Only Fools and Horses.. The vehicle, which still has its fake tiger fur interior and pink aerials exactly as it appeared in the show, is expected to fetch around £24,000 to £28,000.
Copyright Press Association 2013