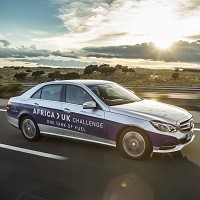 A two-man team has managed to drive from Africa to the UK in a Mercedes-Benz, without once having to refuel.
Journalist Andrew Frankel and a relief driver drove an E 300 BlueTEC HYBRID a total of 1,223 miles from Tangier to Goodwood ahead of the famous Festival of Speed this weekend.
Averaging 73.6mpg it took them 27 hours to drive across Africa and Europe, including four countries and three different time zones without a breakdown or fuel stop.
The goal was to get from Africa to Britain on one tank of fuel, but when they pulled up at Goodwood on Thursday night the tank was not empty.
The drivers battled rainstorms, sweltering heat, major traffic congestion and considerable variations in altitude, which all had an effect on fuel consumption.
The Mercedes-Benz E 300 BlueTEC HYBRID was a standard version other than the fact it had a bigger fuel tank than normal, capable of holding 80 litres of fuel.
The optional extra costs an extra £100. Emitting 109g/km of CO2 its 204hp diesel engine, combined with a 27hp electric motor allows a maximum speed of 150mph and propels the car from 0-62mph in 7.5 seconds.
It comes in saloon and estate versions and the range starts from £39,880.
Copyright Press Association 2014