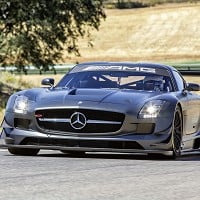 German car giant Mercedes is to produce an exclusive new AMG model aimed at keen collectors and fans of motor racing.
The company has revealed it will produce a new SLS AMG GT3 "45th anniversary" model.
Only five of the hand-made vehicles will be built at the company's base in Affalterbach.
Bernd Schneider, DTM champion and AMG brand ambassador, has been heavily involved in the development of the car, which features a powerful 6.3-litre V8 engine.
The special edition will feature a number of modifications to both the interior and exterior, including a new designo magno graphite matt paint finish.
People who buy the new Mercedes-AMG model will be hoping it will as winning as other projects AMG has worked on. The AMG Customer Sports Programme has already had 32 victories in the current 2012 motorsport season and has won three driver and team titles in the FIA GT3 European Championship, the ADAC GT Masters and the FIA GT1 World Championship.
Copyright © Press Association 2012