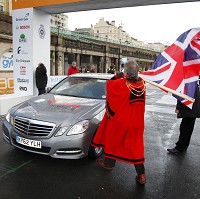 Ten new hybrid models will be launched by Mercedes for 2017 - and the car giant could produce a hybrid hypercar to compete with the McLaren P1 and Porsche 918 Spyder.
Mercedes plans low-emission cars, separate from its core products, in the wake of ever-more stringent emission targets from the EU.
With these targets in mind, the company has lowered its average carbon dioxide emission from 1995's 230g/km to 134g/km, with a projected 125g/km by 2016 and 99g/km by 2020.
The main method for achieving this will be through plug-in Modular Hybrid Technology whereby the electric motor is packaged in the gearbox, with the batteries in the boot and a petrol engine beneath the bonnet.
Any of Mercedes' rear-wheel or four-wheel drive models can accommodate the arrangement.
The S500 luxury car - with two-hour charging using a Mercedes wall box or a four-hour charging using a domestic socket - is the first model to use the plug-in hybrid arrangement.
The electric running gear joins with a 3.0-litre twin-turbocharged petrol engine - with a resultant 21 miles in the electric-only range.
With this set-up, the S500 Plug-in Hybrid managed 65g/km of CO2 emissions in EU tests, and 101mpg on the Combined cycle.
In 2015, customers can look forward to a C-class Plug-in Hybrid likely to emit less than 50g/km of CO2. This model will match the batteries and electric motor with a smaller four-cylinder petrol engine.
Copyright Press Association 2014