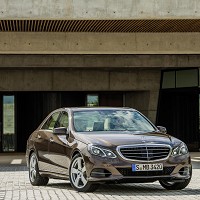 If the new Mercedes E-Class if anything to go by, the idea of a mass-market car that drives itself won't be a science fiction concept for much longer.
Due for release in 2013, the revised E-Class is packed to the gills with technology which allows the car to operate almost independently.
The cars will feature the latest generation of Distronic Plus cruise control, which monitors the speed of the car in front in heavy traffic and utilises cameras to keep the vehicle in its lane.
An extension of the same system also stops E-Class drivers from attempting risky manoeuvres by scanning neighbouring lanes for oncoming traffic.
If it gauges that there is insufficient space then it will prevent drivers from leaving their lane to overtake, reducing the risks of a collision.
Other technological marvels include Active High Beam Assist, which allows drivers to leave their lights on full beam without dazzling passing motorists by masking parts of the light's path.
The revamped E-Class will have lower CO2 emissions, more efficient fuel consumption and a comprehensive exterior redesign, Mercedes said.
The German manufacturer revealed that the 11 of the E-Class's driver assistance systems are taken from the forthcoming S-Class, making the E-Class the new standard-bearer for the firm's cutting-edge technology.
Copyright Press Association 2012