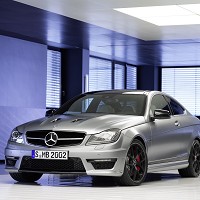 Mercedes is revving up one of its iconic AMG cars in what could be its last year on the market.
The Mercedes C 63 AMG will be adopting technology used on the SLS AMG, which is the only additional model to continue to come with the powerful 6.2-litre normally-aspirated V8 engine. Interior weight has been cut by 3kg thanks to a lighter crankshaft, forged pistons and connecting rods.
The C 63 is a limited edition, although Mercedes is not putting a final number on it, meaning more upgrades could be in the works before emission regulations push it off the road. This car will be called the "Edition 507", in reference to its metric horsepower, which is 500bhp, or 49 more than the standard version.
Abreakdown of what the Edition 507 offers includes light-alloy wheels in one of two colours, standard front AMG high-performance composite brakes and parts from the C 63 AMG Black Series. With a lower mass, the car's suspension response is improved, resulting in superior handling and grip on the road.
The car will premiere at the March Geneva Motor Show. UK prices and specs are waiting for confirmation.
Copyright Press Association 2013