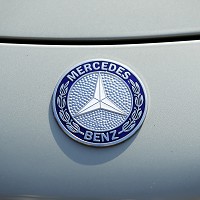 A baby born in a Mercedes showroom will be spared a car-themed name, her mother says.
The baby's parents were on the way to a London hospital when they realised their arrival was going into overdrive. They stopped and asked for help from a transport officer, who happened to be in the area dealing with another vehicle. The police officer, Robert Morgan, called for assistance but was forced to deliver the the baby in a nearby Mercedes Benz showroom before the ambulance arrived.
The officer, who works for the Metropolitan force, was helped by a second officer who rushed to the scene in Newham, as well as the pregnant woman's sister. Tower Hamlets officer, Pc Christine Goode, assisted with the birth, which was also witnessed by the mother's son.
The baby and her mother were taken to an East London hospital shortly afterwards.
"We deal with all sorts of incidents, however I wasn't expecting this today," said Pc Morgan, adding: "The mother was not keen on my suggestion of calling the baby girl Mercedes."
Copyright Press Association 2013