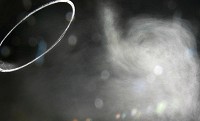 The advertising watchdog has said Mercedes-Benz misled the public over claims the whole E-Class Saloon range had lower carbon emissions and was better for the environment.
The claim, "CO2 emissions for the range are down to 139g/km, which means its better for the environment," gave the impression that a large proportion had reached the low figure, according to the watchdog.
But the Advertising Standards Authority said that "was not the case".
It argued CO2 emissions were dependent on a number of factors. These included the choice between petrol and diesel, manual and automatic, and external factors such as alloy wheels.
The ASA also said the advert for the E-Class mentioned in a footnote that emissions varied between 139g/km and 261g/km.
"In total there were 24 possible combinations, of which two had an emissions figure of 139g/km," said the ASA.
In response, Mercedes said its avert was "absolutely accurate", but it would "abide by the ASA ruling".
Copyright © Press Association 2009