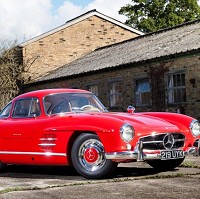 Motoring experts predict that a 60-year-old Mercedes-Benz could break the £1 million barrier at auction this weekend.
Drivers hoping to take home the 1955 300 SL Gullwing from the from the Historics at Brooklands Specialist Classic and Sports Car sale could have to pay between £925,000 to £1.1 million, valuers believe.
This would be consistent with recent similar sales.
Last month a Mercedes Gullwing from the same year went for 1,375,000 euros (£1,021,000) at Berlin's Motorworld Classic event .
The latest Gullwing to be auctioned off comes with an "exemplary" fire-engine red finish and a stunning tan leather interior.
It was built along the lines on the W194 period racing car, but with greater level of power that made it the fastest production vehicle of its era.
This added punch came from the world's first production example of mechanical fuel injection.
Other seldom-seen delights in the classic motors world include a 356 Outlaw from Porsche (1956) and an XK150S Roadster from Jaguar (1958).
The fair is being held on Saturday November 28 from 12.30pm and sale catalogues are available in advance.
Copyright Press Association 2015. Motoring News articles do not reflect the RAC's views unless clearly stated.