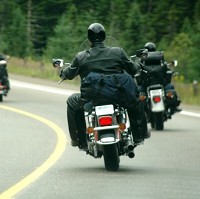 The European Commission (EC) has voted overwhelmingly in favour of introducing a range of new safety rules for motorcycles.
The planned legislation is likely to create a new breed of safer, greener motorbikes, three-wheelers and quad bikes from 2016 after Euro MPs supported the motion by a vote of 643-16.
Bikers can expect mandatory anti-lock braking (ABS) on powerful bikes, advanced braking on scooters, tougher exhaust emission targets, and enhanced on-board diagnostics.
However, an attempt by the EC to force motorbike manufacturers to include compulsory "anti-tampering" measures to prevent all high-speed modifications will only affect young or inexperienced riders, where speed or power limits are already in operation.
Conservative MEP Malcolm Harbour guided the proposal through the European Parliament following more than two years of negotiations and alterations and appeared happy with the outcome, despite campaign groups expressing concerns about a potential rise in motorcycling costs.
Mr Harbour said: "This vote is the culmination of a great deal of listening to biking enthusiasts so that we could put in place a law that makes two, three and four-wheeled machines safer and cleaner, without ruining their cherished hobby."
Copyright Press Association 2012