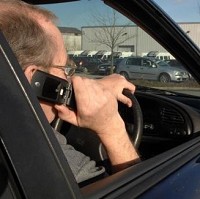 Male drivers are more likely to break the law by using a mobile phone while behind the wheel, according to new research.
Official figures from the Department for Transport (DfT) show that in England and Scotland 1.7% of male motorists are likely to use a phone while driving, compared with 1.3% of women.
Transport Minister Robert Goodwill says the mobile phone figures demonstrate that some drivers are not just making phone calls, but also texting and using the internet.
He said the DfT is still considering further measures to cut the number of people tempted to pick up a phone while driving.
The figures, which are from 2014, show that van drivers in England and Scotland are almost twice as likely as car drivers to use their phones illegally. As many as 2.7% of van drivers will use their phone, compared with 1.4% of car drivers and 1.6% of motorists of all kinds
The 2014 figures also reveal that 98.2% of car drivers are using seat belts. Despite the seatbelt rate for children in rear seats increasing slowly between 1999 and 2009 - when it hit 96% - the 2014 figure had fallen to 91%.
Mr Goodwill said the fall in seatbelt use for children in rear seats is "very concerning", while the RAC Foundation described the decline as "a worry".
Copyright Press Association 2015