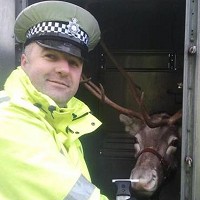 Santa's favourite designated driver has been brought in to help police officers get out the message about driving after drinking too much Christmas cheer.
The red-nosed-but-sober Rudolph the reindeer was enlisted by Northamptonshire Police officers during a drink-drive campaign.
It goes without saying that Rudolph would never think of over-imbibing, making it impossible for him to drive Santa's toy-laden sleigh on December 24. It would mean thebreakdown of Christmas.
"We want everyone who uses our roads to be safe and that includes reindeer!" said chief inspector Dave Lawson, from Northamptonshire Police.
"We don't want to ruin anyone's Christmas but I have to emphasise that it is the motorists' responsibility to make sure they are not over the limit when they get behind the wheel. Our message is clear - if you are driving, don't drink alcohol.
"Now is the time to get organised and decide who is going to be your nominated driver or who is going to pick you up if you are planning to have a drink."
The police will be carrying out highly visible drink-drive campaigns both at night and in the mornings through December.
Copyright © Press Association 2012