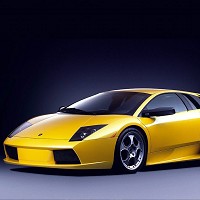 The owner of a Lamborghini supercar that was written off during an MoT brake test has hit out at the fine handed down to the mechanic responsible.
Andrew Mitchinson, 37, crashed the prized £220,000, 6.2 litre Murcielago - owned by millionaire hotel boss Stephen Leahy - leaving it damaged beyond repair.
He was fined £280, ordered to pay court costs of £350, pay a victim surcharge of £30 and given six penalty points.
However, Mr Leahy, 46, feels the punishment is not enough. He said: "He was a very, very silly lad and he's been given a slap on the wrist.
"I'm appalled he thought it fit to drive like that through a quaint, little country village in a customer's car."
Mr Mitchinson also wrote off a stationary Ford Focus in the incident when he skidded and lost control on a wet road.
"Basically all he has got is the equivalent of two speeding tickets for trashing two cars," said Marianne Kitchen, owner of the Focus.
Car insurance companies ended up paying out £87,000 to Mr Leahy and £7,500 to Ms Kitchen following the crash.
Copyright Press Association 2013