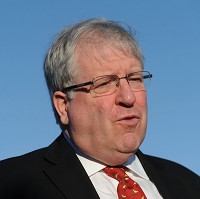 David Cameron's decision to re-appoint Patrick McLoughlin as Secretary of State for Transport has given the green light to press ahead with major improvements to the nation's road network.
The RAC's chief engineer David Bizley hopes the stability brought by continued office will offer UK motorists a better deal in the months and years ahead.
The Prime Minister - who became the first leader of the Conservative Party to win an outright majority for 23 years - has wasted no time organising his cabinet for the next five years, welcoming several new faces.
David Bizley has urged Mr McLoughlin to address a number of pressing issues facing motorists.
"There is now a golden opportunity for the Transport Secretary to oversee the delivery of the commitments included in the Road Investment Strategy (RIS) and in his party's manifesto," he said.
"The political foot must not be taken off the gas."
The RIS is the biggest road investment for a generation. It will spend £15 billion improving motorways and major roads over the next Parliament, bringing them up to speed for modern motorists.
It promises to fill millions of potholes , add thousands of extra lane miles to the motorway network to create smart motorways and improve dozens of problem junctions, tackling the issue of congestion head on.
"The UK's motorists, who are among the most heavily taxed in Europe, can look forward to benefiting from the boldest investment plan in a generation for England's strategic roads which will tackle some of the nation's worst bottlenecks and congestion pinch points."
In addition to delivering the scheme on time and within budget, the RAC wants to see the Transport Secretary publish the green paper on reducing accidents involving young drivers, and reintroduce national casualty reduction targets in a bid to improve road safety.
"Such targets have proven effective in the past," Mr Bizley says. "And with the number of children killed or seriously injured on our roads up for the first time in 20 years, now is the time for action to be taken."
Motoring taxation is expected to come under renewed scrutiny as the new Government settles in.
Fuel duty has been frozen for some time - and the RAC wants to at least keep it this way, or see it fall.
Mr Bizley added: "Motorists and businesses are both looking for, as a minimum, continuation of the fuel duty freeze. Whilst the Treasury is likely to have the final say, we hope the Transport Secretary will continue to stand up for motorists and encourage a common sense approach by the Chancellor of the Exchequer."
Copyright Press Association 2015
https://www.gov.uk/government/collections/road-investment-strategy (Road Investment Strategy)
%20http:/www.rac.co.uk/advice/motorway-breakdown-advice/all-you-need-to-know-about-smart-motorways (smart motorways)