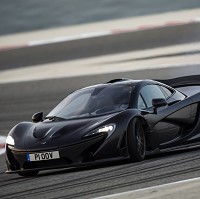 McLaren has reported record-breaking sales and financial figures for last year.
The UK supercar manufacturer's announcement comes as it also revealed it has started making a new, limited-edition hybrid model.
Surrey-based McLaren's pre-tax profits went up over threefold from £4.5 million in 2013 - its first year in the black - to £15 million in 2014.
Woking factory sources put this down to burgeoning P1 hypercar sales. It has had a full order book in both track-only and road-going versions. In addition, its limited-edition 675LT track model has sold out, after being based on the 650S model.
In all, McLaren sold 1,649 vehicles in 2014 - while a sales increase approaching 10% to roughly 1,800 units are expected this year.
More budget-friendly Sports Series cars being launched this autumn are likely to fuel the 2015 sales hike, while McLaren officials are expecting to make 4,000 models annually by 2017.
McLaren is constantly at the forefront of innovation. Towards the end of 2013 it announced that it was working on plans to consign windscreen wipers to the landfill site of history. These would be replaced by hi-tech ultrasound devices it is working on which prevent things from sticking to windscreens.
The company's rapid four-year rise is unparalleled, according to its CEO, Mike Flewitt.
In 2015 alone McLaren will recruit 200 new workers. The firm's quality control section has taken on 80 fresh employees to help secure the highest manufacturing standards.
Mr Flewitt said that McLaren had no plans to build a "potentially lucrative" SUV and production will remain at its current Woking technical base.
Elsewhere at McLaren, its limited-edition hybrid supercar has gone into production.
The 986bhp P1 GTR will be restricted to only 45 models - and will set owners back nearly £2 million.
It operates on massive slick tyres, with still more downforce generated than its standard P1. The speed machine is exclusively being offered to its 375 current and soon-to-be owners of the existing P1.
McLaren has started building the final batch of road-going P1s. This is alongside the initial batch of GTRs, with an estimated hand-crafted construction period of between 20 and 24 days.
Copyright Press Association 2015