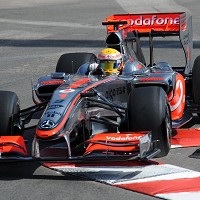 McLaren boss Martin Whitmarsh says the team are already spending money to make Lewis Hamilton`s car more competitive next year.
Hamilton's disastrous title defence has included a run of three grands prix without scoring a point, following Sunday's 13th-place finish in Turkey.
Former F1 team principal Eddie Jordan has already described the car as the worst the team have built, while another source called it "a boat".
Whitmarsh explained: "From last year to this there was a very large set of changes, and I wouldn't say circumstances conspired against us, but they were the greatest in the last 20 years."
A major upgrade is due for the German Grand Prix early next month, although if Whitmarsh has his way then it will be on the car for the next race at Silverstone in 13 days' time.
He continued: "It was an ideal opportunity for teams with resources, or because they weren't competing, to steal a march on those pouring resources into the existing car.
"Fuel tanks will be 14 to 15 centimetres longer, which might not sound much, but talk to the engineers and it's a very significant and substantial change."
Copyright © Press Association 2009