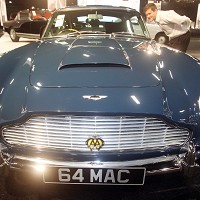 A vintage Aston Martin DB5 owned by Sir Paul McCartney in the 1960s is set to be sold at an auction in London and is expected to fetch over £300,000.
The blue sports car has a black leather interior, Motorola radio and its own record player and Sir Paul bought it in 1964 shortly after he had finished filming A Hard Day's Night and just before embarking on a world tour.
The Beatles star ordered the car weeks after the band's famous appearance on The Ed Sullivan Show in America and just as they were achieving international fame and success.
Peter Wallman thinks it could end up costing a lot of money at auction. The man running the bidding for RM Auctions said: "We've sold a couple of cars owned by Steve McQueen which have sold for eight, nine, 10 times what they would be worth if they were just regular cars.
"I'm not going to predict that happening here but if somebody collects Beatles memorabilia and just really wanted to have Paul McCartney's Aston Martin then it could go crazy."
The car insurance cost is likely to be equally staggering if the car does reach the £300,000 prediction and it is not the only expensive automobile going under the hammer.
A total of 93 classic cars will be auctioned off in Battersea Park and they are expected to raise as much as £18-20 million between them.
Copyright Press Association 2012