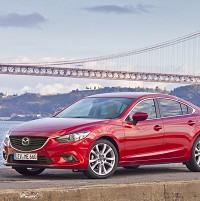 Mazda has a reputation for producing some of the safest cars around and the latest Mazda 6 is no exception - having received the highest possible Euro NCAP test rating.
It is no mean feat to achieve a Euro NCAP five-star rating, but Mazda has done so four times with the new and previous version of the Mazda 6, as well as the new Mazda 3 and CX-5 models.
Performances in crash tests saw the saloon and estate versions of the new Mazda 6 score high in all categories; adult occupant protection, child occupant protection, safety assist systems and pedestrian safety.
The benchmarks for the first three are 80%, 60%, 65% respectively, with the Mazda 6 scoring 92%, 77% and 81%.
It achieved 66% for pedestrian safety, one of the best marks seen in 2013.
Skyactiv technology has given the model more power and greater fuel efficiency than ever before but innovations such as ultra-high tensile steel also make it lighter and stronger, according to Jeremy Thomson, Managing Director of Mazda UK.
He said the strength of the car is complemented by a range of technologies designed to help drivers avoid accidents and car insurance claims.
It also reduces the impact on those inside and outside the vehicle when a crash is unavoidable.
Copyright Press Association 2013