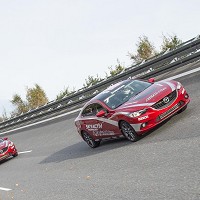 Twenty new speed records have been set by Mazda after a team of drivers excelled during a day-long session which covered more than 3,200 miles.
Being driven by a team of car enthusiasts, journalists and professionals, three Mazda6 models huosing 2.2-litre clean diesel engines powered around an oval test track in Germany.
The lead vehicle achieved an average speed of 137.37 mph, with the other two chalking up similar readings. The current FIA record for diesel-powered production cars (2.0-2.5 litre displacement) is 130.38mph.
A total of 23 drivers from seven European Union countries each drove for 90 minutes during the event, seeing a total of 3293.3 miles clocked up. The three cars were separated by only 0.55mph of average speed at the end of the session.
Strict rules were in place during the marathon driving session - drivers were not allowed to follow in the slipstream of a preceding car.
The drivers also had to be careful when negotiating the steeply-banked curves at each end of the oval to avoid losing speed.
Copyright Press Association 2014