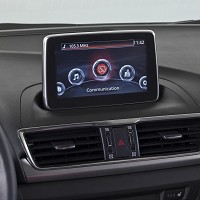 State-of-the-art MZD Connect technology in new Mazda3 cars is to offer drivers a new level of connectivity, without compromising on safety, it is claimed.
Motorists can get their hands on the new Mazda3 in the New Year and connect their smartphones to a range of online services using the redesigned human-machine interface (HMI).
MZD Connect includes Mazda's navigation systems, SMS readout and voice recognition capabilities and Aha infotainment through the 7-inch display on top of the centre stack.
Aha utilises a cloud-based platform to offer 40,000 different forms of content, such as internet radio, podcasts, news bulletins, audio books, social media feeds including Facebook and Twitter, as well as Mazda's own apps that offer maintenance reminders and an Eco-display.
Access comes from the free Aha app for smartphones that can be connected to the car via Bluetooth or a USB cable.
MZD Connect has been made as safe as possible for drivers as its heads-up Active Driving Display reduces distraction, keeps bodies in the optimum driving position and keeps eyes looking where they should be, on the road.
Copyright Press Association 2013