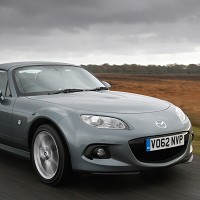 The full details of the new MX-5 have been unveiled by Mazda, with all seven models in the range being equipped with climate control as standard.
There is also a minor style revision to the front end of the 2013 MX-5, which features enhanced aerodynamics around the bumper thanks to a deeper grille and the addition of a chin spoiler.
And the new MX-5 features a nifty new safety feature in the shape of an active bonnet, which pops up on impact to generate greater space between the bonnet and the engine to lower the risk of injury to a pedestrian.
There are also updates to the interior of the vehicle, with glossy dark grey trim inserts.
The top-of-the-range Sport Tech Nav incorporates a fully-integrated TomTom satnav system with a 5.8-inch touch-screen as standard, while owners of the PowerShift automatic models get an automatically dimming rear-view mirror.
If all that is enough to have whetted motorists' appetites and have them reaching for a car insurance quote , prospective buyers should note prices for the new Mazda MX-5 range from £18,495 to £23,595 on the road and orders can be placed now.
Copyright © Press Association 2012