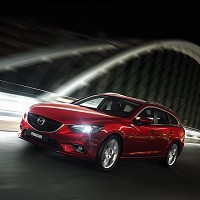 Paris's motor show later this month will see the debut of Mazda's newest estate.
The Mazda 6 estate features the manufacturer's latest clean diesel engine and SkyActiv technology, which has been years in the making.
The new engines, which offer lower running costs for drivers, will be subject to much tougher Euro 6 emissions regulations.
Its saloon version, which is currently appearing at the Moscow International Auto Show, will appear alongside the estate version in Paris.
Details of the 2.0-litre SkyActiv petrol engine that will also be offered in the cars will be available at the motor show.
The new model has also adopted Mazda's new 'soul in motion' Kodo design style.
However, it is the first time the manufacturer has used the energy recuperating system i-ELOOP, which aims to harvest energy that would be lost otherwise under braking.
The move is part of Mazda's environmental technology development strategy.
Copyright Press Association 2012