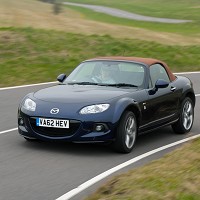 Mazda is planning to introduce four new Venture Edition models to cover two of its most popular cars, the Mazda 2 and the MX-5.
There will be three new special edition MX-5s and one Mazda 2 with the Venture Edition tag.
The Mazda 2 special edition features an 83bhp 1.3-litre petrol engine and will be available in two unique exterior colours.
It will also have a number of equipment upgrades, including 16-inch 'Bright Finish' alloy wheels, rear parking sensors, dusk-sensing lights and rain-sensing wipers and special 'Venture Edition' badges.
The standard model already features sports styling, satellite navigation, Bluetooth and climate control.
The MX-5 Venture Edition range includes soft-top and folding hard-top models with the same 1.8 litre engine and a more powerful 2.0 litre model with an electric hard-top.
Prices start at £13,295 on the road for the Mazda 2 Venture Edition; £18,895 for the 124bhp, 1.8-litre MX-5 soft-top; and £22,295 for the 158bhp, 2.0-litre Venture Edition Roadster Coupe.
The 1.8-litre convertible falls intoinsurance group 21, while the 2.0-litre Roadster is classified in group 26.
Copyright Press Association 2013