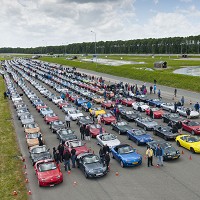 A new world record has been set for the longest ever parade of Mazda cars.
A total of 683Mazda MX-5s joined the procession on the roads around the RDW Test Centre at Lelystad in Holland, shattering the previous record of 459 MX-5s set in Essen, Germany, in 2010.
Some 1,450 participants contributed to achieving the new entry in the Guinness Book of World Records, with the parade led by a third-generation racing model with Dutch TV presenter Allard Kalff behind the wheel and president and CEO of Mazda Motor Europe Jeff Guyton beside him.
Following the successful record attempt, Mr Guyton also received the official certificate which was presented by Guinness World Records adjudicator Pravin Patel.
The record bid was part of the MAX-5 2013 event at the RDW Test Centre, which was completely dedicated to the Japanese brand and the Mazda experience. This included demonstrations by the Ribank Mazda MaX5 Cup racers and the three-rotor-engine Mazda3 20B owned by the Van Herck Belgian racing family.
Copyright Press Association 2013