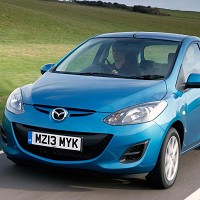 Motorists could snap up a brand new Mazda without putting a penny down for a deposit, thanks to to several new finance offers.
Consumers purchasing a new Mazda 2, 3, 5, or MX-5 will be able to utilise a PCP finance agreement at 0% interest over four years, with no compulsory deposit required.
The same vehicles are also eligible for a deposit contribution from the Japanese car maker, with Mazda 2 buyers receiving £200, Mazda 3 buyers getting £1,000, MX-5 £2,131 and Mazda 5 £2,500.
That means customers could feasibly drive a new Mazda 2 off a forecourt paying £169 a month, while monthly payments for the 3 would be £249, the MX-5 from £255 and the 5 starting at £295.
PCP arrangements mean that part of the value of the car is deferred until the end of the term, making for cheaper monthly payments and giving the buyer a chance to return the car when the contract expires.
Consumers have the option to put down a deposit on one of the Mazda's on offer, while they can also use equity built up in the duration of the contract to provide a deposit on another new car.
Copyright Press Association 2013