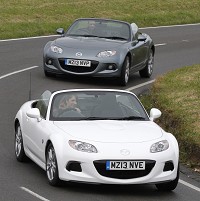 Scoring high in two categories, the Mazda MX-5 has been named 'Britain's most reliable new sports car' in the Which? Car Survey.
In the biggest survey of car satisfaction and reliability conducted in the UK, the MX-5 achieved a reliability score of 97.4% (for models up to three years old) and 91.1% (for models over three years old).
Beating a host of rivals to claim first and second places in the age-related categories the MX-5 earned rich praise from the Which? editorial team. They wrote that "For a sports car that will last for years and won't cost a fortune in repairs, head to your local Mazda garage. The MX-5 has the lowest number of faults and no annual repair costs in the first three years." This means that the Mazda reliability will enhance performance and also save on breakdown cover costs.
The magazine likens 1998-2005 models of the car to a "double espresso", adding: "Near-telepathic steering and handling make other cars (even some sports cars) feel woolly and dull by comparison. You can pick-up a decent used MX-5 for just £1,500. We suggest you do."
It was not just the MX-5 that carried the Mazda flag in the awards, the Mazda3 was voted the most reliable medium car (over three years old).
Copyright Press Association 2013