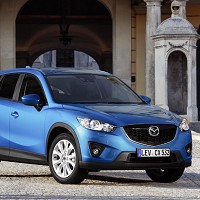 Mazda has responded to customer demand by adding an SE-L Lux trim to its CX-5 crossover model.
The new SE-L Lux has a sunroof, electric driver's seat adjustment, leather upholstery and heated front seats as standard.
In addition, an SE-L Lux Nav model adds a satellite navigation system, which at £25,195 costs £1200 more than the standard SE-L Nav model.
The SE-L Lux is priced at £24,495, with finance and car insurance packages available.
Both of the SE-L Lux models have a six-speed manual gearbox, and are based on the 2.2 turbodiesel 2WD version of the CX-5.
The gearbox provides an average fuel economy of 61.4mpg and carbon dioxide emissions of 119g/km.
Peter Allibon, Sales Director for Mazda UK, claims that many Mazda customers had expressed an interest in being able to acquire a CX-5 with a sunroof and leather trim, but without having to purchase a range-topping Sport model.
Mr Allibon said: "Now, responding to that latent demand, we are adding two models to our Mazda CX-5 range, based on our most popular and economical powertrain, the 2.2-litre diesel 150ps with 2WD and six-speed manual transmission.
"The premium is an extremely modest £1,200 for an upgraded specification which would cost more than £2,500 with some rival brands."
Copyright Press Association 2013