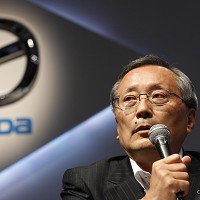 An agreement has been reached between Mazda and Fiat to work on the production of a roadster, although the companies will manufacture their own distinct brand of the model.
The two-seater convertible will take many ideas from Mazda's "next-generation MX-5 rear-wheel-drive architecture" but each model will have its own styling and own engine. Fiat will produce an Alpha Romeo model which is known for its reliability although goodbreakdown cover is still an essential for all drivers.
Mazda has seen its links with the US giant Ford lessen in recent times and the Hiroshima-based company has been in the red for the past four years.
Mazda president Takashi Yamanouchi said: "Establishing technology and product development alliances is one of Mazda's corporate objectives, and this announcement with Fiat is an important first step in that direction."
Sergio Marchionne the Fiat chief executive said working with Mazda was part of an effort to grow into "a truly global brand", and produce "an exciting and stylish roadster in the Alfa Romeo tradition".
It has been thought that Mazda would need a car industry partner to help them out of their financial problems. Some suggested a partner in the Chinese market.
Copyright Press Association 2012