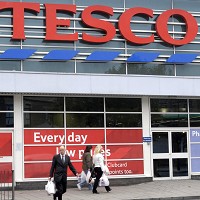 The new mayor of a Suffolk borough is recovering after driving his car through the doors of a Tesco supermarket.
Terry Buckle, 73, accidentally drove a silver Vauxhall Vectra into a Bury St Edmunds branch of Tesco Express on Tuesday afternoon (May 21) - only a week after being inducted as first citizen.
The damage to the shop and Mr Buckle's Vauxhall Vectra seem to be minimal.
His car went straight through the store's doors, avoiding the wall and causing little damage to shop or vehicle.
Only the Vectra's wing mirrors were damaged, and there was minor damage to the shop's doors and security scanning equipment.
The driver was unharmed but suffered shock and was taken to hospital as a precaution.
Mr Buckle's wife Pam told the East Anglian Daily Times: "He's home now. He's fine and he had an x-ray on his neck and he's just a bit sore. He's gone to bed with some tablets."
Copyright Press Association 2013