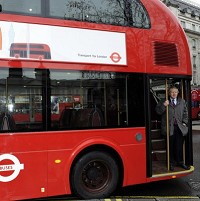 London Mayor Boris Johnson says a string of planned safety initiatives will help make the capital's roads less dangerous.
Transport for London (TfL) says it is extending the number of pedestrian crossings equipped with 'countdown' signs that tell people how long they've got left until the lights change.
The move will take the number of crossings with the "how-long-have-I-got?" signals to around one in 10.
London's buses, meanwhile, are set to begin trialling new collision detection software aimed at cutting the number of accidents involving pedestrians and cyclists.
The capital's red buses may also be used to test innovative speed adaptation technology, it has been announced.
Mr Johnson says the action plan, which also includes the launch of an updated digital speed limit map, will help the drive to slash the number of people being killed or seriously hurt on London's roads by 40% by the end of the decade.
A new TfL TV ad campaign, meanwhile, aims to build more respect between different groups of road users in the capital.
RAC spokesman Simon Williams said: "It's good news more crossings are to have countdowns on as it's very scary getting to the middle of a road and finding the lights are changing.
"This a positive for pedestrians and road users."
Copyright Press Association 2014