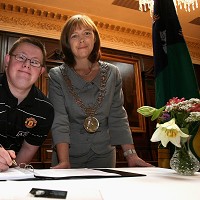 Cyclists in Dublin should be protected by adding overtaking restrictions to the area's new 30kmh speed limit zone, the Lord Mayor has said.
Emer Costello appealed to the city council to consider adding the restrictions, keeping motorists a minimum distance away from cycle lanes.
Ms Costello, who used to cycle round the city herself, said that proposals should be given extensive consultation. She suggested that Dublin City Council's transportation and traffic strategic policy committee could put together proposals and discuss them with concerned parties.
"In principle, I do actually believe it is a good idea and I think in other European cities there is that kind of provision and that separation distance between vehicles and cycle lanes," she said. "However that can be best achieved is something that would need to be worked out, but it is something, in principle, that I would favour."
In contrast, city manager John Tierney said he believed the existing policy - which requires drivers to keep an unspecified "safe distance" from cyclists - was "appropriate" and would continue to be the official policy.
Mr Tierney said there would be difficulties bringing in a legal safe separation distance between motorists and cyclists, despite its existence elsewhere, such as the so-called "three-foot rule" in many US states. "It would be extremely difficult to enforce," he said.
Copyright © Press Association 2009