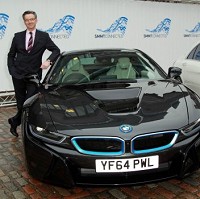 The UK's car industry remains strong with year-on-year sales figures now having risen for three-and-a-quarter years.
May's numbers showed a "steady" 2.4% hike on the same month in 2014, from 194,032 to 198,706, the Society of Motor Manufacturers and Traders (SMMT) reported.
The society also suggested a big switch in consumer attitudes towards greener models. A growing section of people buying a car built in the UK are the ones acquiring plug-in vehicles.
The SMMT noted demand for these increased "remarkably", while sales of low-emission vehicles also saw "huge" growth. In fact, ultra-low emission vehicles (ULEV) sales are approaching 12,000 over the first five months of this year. This is a fourfold jump on the same period in 2014.
The society claims its new statistics reveal that drivers are becoming more and more aware of the substantial benefits a ULEV can bring with both environmental impact and running costs reduced.
This is reflected in the choice of such vehicles available. Today there are roughly 20 on the market, compared with just six four years ago.
Mike Hawes, the chief executive of the SMMT, called the expansion of plug-in vehicle demand "remarkable". He predicts this trend will only continue with the choice of ULEVs available continuing to rise.
As usual, Ford's Fiesta topped the popularity charts in May, shipping 9,349 units. It also heads the 2015 tables with nearly 60,000 sales over the opening five months of the year.
Its Focus stablemate was second on the monthly list with 7,355 sales.
The VW was May's fourth-best seller with 5,897 new registrations, sandwiched between the Vauxhalls Corsa and Astra with 6,513 and 4,916 units respectively.
The Corsa and Focus sit behind the Fiesta in the 2015 lists, selling 40,564 and 35,989 models respectively to date.
This year so far has seen over 1 million UK cars sold.
Mr Hawes has noted that many three-year replacement period motors first bought at the end of the recession are being traded.
He expects an organic flatlining of new car sales during the remaining seven months of 2015.
Copyright Press Association 2015