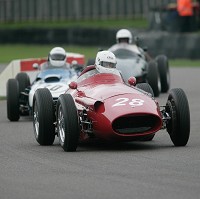 Maserati enthusiasts will be in for a treat in September as organisers of a top race meeting bring together a collection of the famous cars.
This years marks 60 years since the Maserati 250F was first raced in Formula One and it is planned that up to 16 of the cars will be at at Goodwood Revival to compete in the Richmond Trophy on the weekend of September 12-14.
The trophy will be open to 2.5-litre, front-engined vehicles including the Maserati 250F which was raced in grand prix between 1954 and 1960 by famous drivers including Sir Stirling Moss, Roy Salvadori, Mike Hawthorn, Jean Behra and Tony Brooks.
The racing car entered the history books when Juan Manuel Fangio, a five-time F1 champion, drove it to victory on its debut at the Argentinian Grand Prix of 1954.
Organisers said the Maserati 250Fs will be shown off in the main paddock at the racecourse, which will be transformed to resemble the Monza pit lane of 1954.
Copyright Press Association 2014