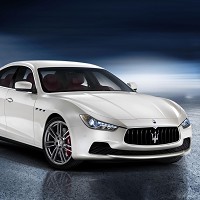 The new diesel engine saloon by Maserati has been unveiled before it is officially launched in Shanghai.
The four-door Ghibli model, which sits beneath the range's bigger Quattroporte, will be the car maker's only vehicle to include a diesel engine, and will be offered alongside a pair of turbocharged V6 petrol options.
A 'Q4' four-wheel-drive system will be included in the Ghibli build if customer choose to include this.
The trio of engines, which all follow a V6 layout and share capacities of 3.0 litres mark a change in the car maker's bid for more efficiency.
Maserati aims to sell 50,000 vehicles each year, and the firm believes the Ghibli will help them reach their target.
The petrol engines will function on an automatic gearbox with eight speeds, but more information will be released for the diesel drivetrain.
More details will be made available during April's Shanghai Motor Show.
Copyright Press Association 2013