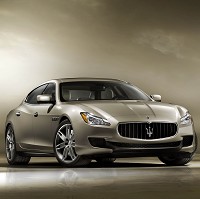 Maserati, the Italian luxury car maker, is to increase its number of UK dealerships as part of bold plans to take global annual sales to 50,000.
The firm expects to have sold 6,000 cars this year so achieving its 2015 target would represent more than an eightfold increase.
It wants to up the number of dealers it has in the UK from 13 to 20 over the next three years, which may entail would-be buyers using aroute planner to find the new outlets. Worldwide it wants to eventually double the number of dealerships from 250 to 500.
The managing director of Maserati Europe, Giulio Pastore, said though ambitious the firm was confident their target was realistic, adding: "It's a bold plan but we are confident that it can be done."
The expansion plans form part of owner Fiat Group's wider strategy to realign its brands in Britain. That will see Maserati taking on BMW, Mercedez-Benz and Audi in the prestige sector with Alfa Romeo competing with Ford and VW and Fiat becoming a small car brand.
Maserati is planning at least four new models over the next three years with the plans backed by investment of almost £1 billion.
Copyright © Press Association 2012